_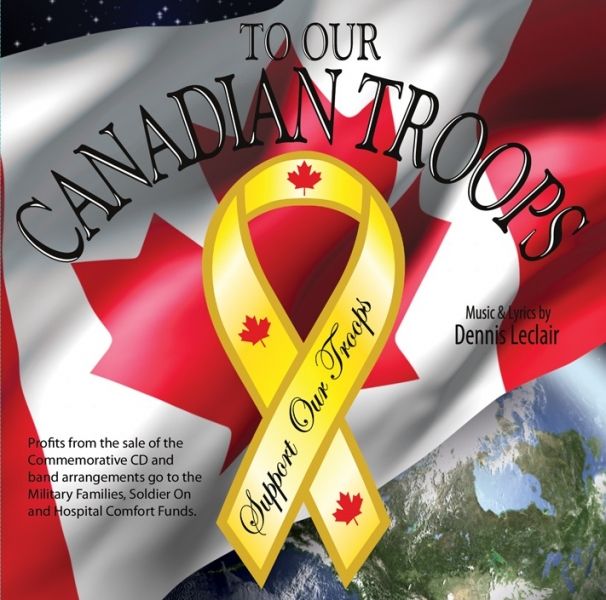 Dennis has a very special place in his heart for our Canadian Forces. His grandfather and father were in the military and most recently his cousin has returned home safe from Afghanistan. In late November '08, Dennis was watching a television special regarding our Canadian Military. The faces and names of our heroes who had fallen in Afghanistan were shown, one at a time. This presentation was very moving and prompted him to write the song "To Our Canadian Troops". Dennis hopes the song captures the essence of an "open letter" to our troops, how we feel about what the men and women of the Canadian Forces are doing overseas and wishing our troops a safe return home to their families and friends.
Dennis began playing guitar in a band when he was fourteen and over the years has performed at many dances and special occasions at the Royal Canadian Legion and Army Navy clubs. As a university instructor in Special Education, he has had the unique opportunity to teach both Canadian and United States military forces members and Veterans.
Over the last 24 years in his private practice in counselling, Dennis has had the honour and privilege of providing services to our Canadian Forces members and their families. What he admires most about these individuals are their levels of pride, commitment, respect, dignity and an overall sense of duty and an incredibly strong belief that other people, less fortunate, have the right to be free like me and you. Our military members will fight, sacrifice and stand on guard to obtain and maintain these freedoms. There is no question in Dennis' mind as to their call to duty and their reasons to serve.
Dennis is proud that he has had the opportunity through music to reflect appropriately, Canadians' respect, gratitude and support for our military forces, their families, support staff and our Veterans world wide.
Aside from his passion for singing, playing guitar and songwriting, Dennis enjoys providing services to his clients, riding his Harley Davidson, weight training, running, cross country skiing, traveling, driving with the convertible top down and spending time with friends.
CLICK FOR TO OUR CANADIAN TROOPS BROCHURE